Zakandra – Chipper PTO Tractor
Zakandra is available in version for tractor, starting from 30 hp – 540 rpm.  Drum Cutting System with 12 cm mx cutting/Also for fibrous material, such as palm trees. The main feature of Zakandra wood chipper is the ability to cut any type of plant residue, dry or wet, up to a maximum diameter of 12 cm.
Description
Cutting performance: Zakandra can easily chips every kind of vegetable waste, dry or wet, up 12 cm max
Infeed hopper: The infeed hopper is wide both in the introduction area and in the cutting point, ensuring ease of work for the operator
In case of big volums of prunning : optional "TL" wider infeed hopper


Palm pruning: Zakandra is the ideal machine also for palm pruning and other particularly fibrous material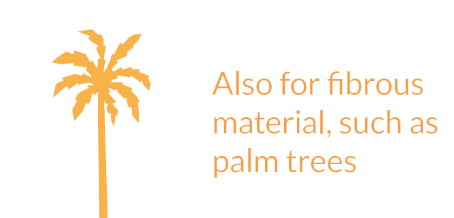 It is designed for an easy access to maintenance areas 

 
Easy moving, thanks to she shape and the weight (350 kg)

 
The shape of the discharge curve allows an easy and immediate material expulsion, without clogging

Zakandra produces homogeneus chips, with a quality that allow to be used in many boiler

 
Zakandra has been designed to last over time and in an easy to maintain perspective: FACT only a few components are subject to wear. That's why Zakandra is the favourite chippers for many garden keepers, renter and municipality
Zakandra is therefore an extremely versatile machine which can smoothly grind freshly cut branches with leaves, dry and fresh branches. Also excellent for palm, olive, pine and magnolia pruning.

Hydraulic infeed roller : It is a 190 mm diameter toothed steel roller with adjustable speed and rotation direction; it is placed inside the hopper and carries every kind of vegetable waste automatically towards the cutting system.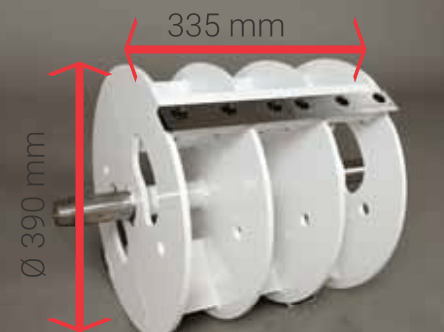 Drum Cutting System : It is a cylindrical cutting system equipped with 2 parallel rows of blades (2 blades in each row). This system is perfect for cutting any kind of vegetable waste, even fibrous materials like palm trees. Thanks to the sieving grid this technology guarantees the production of high quality chips that can be used like biomass solid fuel.
Wide hopper : the hopper remains large even at the cutting point, so that the machine is able to shred particularly leafy materials, such as olive trees pruning, avoiding blockages and allowing grinding of large quantities of material for each load. This leads to a significant reduction of working times.

Infeed hopper available in 3 versions
Adjustable discharge curve: the discharge curve of the Zakandra chipper is characterized by the possibility of being rotated 360 ° thus allowing to direct the jet of shredded without having to move the body of the machine. The discharge curve reaches a height of 192 cm from the ground

Standard
Optional version "TL"
Optional version "CLOSABLE"

Optional for discharge curve: extension that allows the drain to be raised by 23 cm (up to a total height of 2.15 m)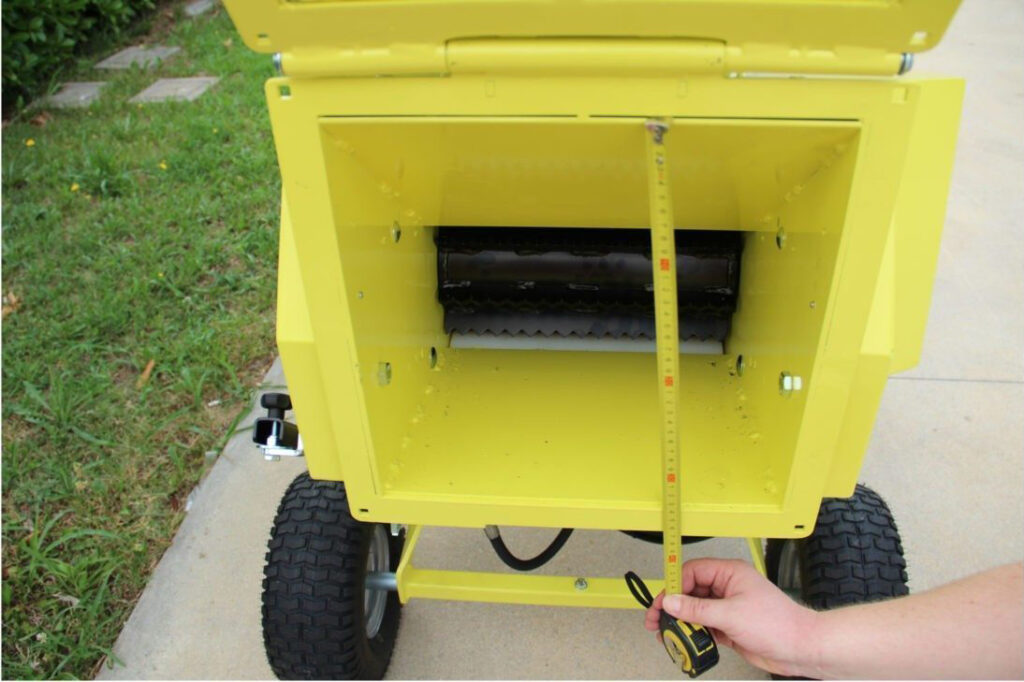 Exhaust-clogging system : Zakandra features a considerable size of the exhaust system that is maintained large for all its extension, thus avoiding bottlenecks of the material in the outlet.

Thanks also to the large volume of air generated by the rotation of the cutting system, the machine is able to easily download almost all types of shredded material even if particularly wet or leafy, minimizing or eliminating the clogging and the machine stops. TIME COUNTER INCLUDED
No Stress device : It is an electronic device that automatically adjust the hydraulic roller, helping and simplifying its operation. Thereby the machine increases the life of the engine by preventing overloads and sudden interruptions. The Agrinova ANTI-STRESS control is an electronic device that automatically adjusts the operation of the hydraulic feed roller aiding and simplifying the work with the machine, thereby, increasing the life of the engine and machine in general by preventing overloads and blocks sudden.
Easy access to the cutting chamber: The Zakandra chipper was designed so that it can be accessed very easily and quickly but always in strict compliance with safety regulations, to all those parts that normally require maintenance, in particular the cutting system and to the transmission mechanisms and to monitor how the machine is working

Space management: Zakandra has been designed taking into account the need to occupy as little space as possible, both in vans, during transport, and in storage areas. Hopper and unloading are in fact folded in multiple positions

Sieves for wood chips production for boiler feeding (Optional): two sieve models are available. One with a 200 mm slit, the other with a 25 mm slit, to obtain the most suitable chip size for your boiler
Sieve for chip measure regulation :
Zakandra can be equipped with particular sieves that allows to graduate the shredded output in order to obtain chips of an ideal size for the purposes of supply of many Biomass Heating Systems.
Example of chips produced with Zakandra

Zakandra Road Towable Chippers available
Zakandra Road towable chipper homologated
Version equipped with brake and supplied with "COC" certification, necessary for obtaining the license plate (mandatory in Italy)
Zakandra Road towable chipper not homologated
Version without brake and not supplied with "COC" certification, produced with the use of components manufactured by a leading company in the sector.


Box on a pallet: 175 x 105 x h 170 cm